Home / Switch on Service: Switch On Series
Switch on Service: Switch On Series

This item is only available for Canadian orders.
This title is a part of the series
Switch On Series
SWITCH ON SERVICE is aimed at developing and maintaining positive service attitudes in all staff that provide service to internal or external customers, whether it be face to face, on the phone or online. It is ideal for developing effective communication and service skills. It can be used for induction, team building and supervisor training.
SWITCH ON SERVICE is ideal for training seminars, short meetings, conferences, workshops and for one on one motivational coaching or self-development online.
The SWITCH ON SERVICE program has four segments:
Segment 1 explores ways to avoid blaming and overcome frustrations
Segment 2 provides strategies for managing pressure
Segment 3 helps people handle complaints and avoid service burnout
Segment 4 covers skills and actions for managing difficult customers and challenges
Managers and trainers can use the content and activity sheets to help their people 'audit' their negative messages and develop and sustain positive messages and positive service attitudes.
GUIDE



---
Related Titles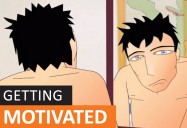 Getting Motivated Series
Seven Dimensions Pty Ltd
7D0010
An animated series developed by psychologist Eve Ash to help people get motivated. Learn how to...