Home / Switch on Assertiveness: Switch On Series
Switch on Assertiveness: Switch On Series

This item is only available for Canadian orders.
This title is a part of the series
Switch On Series
SWITCH ON ASSERTIVENESS is aimed at helping everyone communicate effectively and assertively, respecting other people's rights and their own rights.
It is ideal for communication and service skills training, as well as bullying and harassment prevention programs. It can be used for induction, team building and even management development. It will help those who are not assertive to stand up for themselves and their rights.
SWITCH ON ASSERTIVENESS is ideal for training seminars, short meetings, conferences, workshops and for one on one motivational coaching or self-development online.

The SWITCH ON ASSERTIVENESS program has four segments:
Segment 1 covers aggression and the need to be assertive not aggressive
Segment 2 explores overcoming feeling inadequate and non-assertive
Segment 3 helps everyone communicate effectively and respect his or her needs
Segment 4 covers skills for standing up and not giving in

Managers and trainers can use the content and activity sheets to help their people 'audit' their negative messages and develop and sustain positive messages and assertive attitudes and behaviors.
GUIDE



---
Related Titles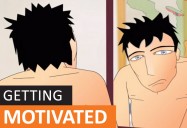 Getting Motivated Series
Seven Dimensions Pty Ltd
7D0010
An animated series developed by psychologist Eve Ash to help people get motivated. Learn how to...