Home / Les arches et les arcs: C'est WOW
Les arches et les arcs: C'est WOW

This item is only available for Canadian orders.
This title is a part of the series
C'est WOW
Catalogue Number:
APT094F
Producer:
Apartment 11
Subject:
Mathematics
Language:
French
Grade Level:
PreK - 2, 3 - 5
Country Of Origin:
Canada
Copyright Year
: 2015
Running Time:
24:00
Jean-François cherche à comprendre pourquoi les arches avec leur forme d'arc sont si solides. Comment la gravité fait-elle pour les tenir en place sans colle ni ciment? Pour le découvrir, nous rencontrons un maçon du moyen-âge, nous construisons une arche faite de fromage et nous chantons l'éloge des arcs-boutants.
Enquête et pratiko-pratik
Chanelle et Francis trouvent des arches et des arcs dans un terrain de jeu, au-dessus des fenêtres et des portes ainsi que sur des ponts. Ils rencontrent Leïla, une étudiante en sciences pures et appliquées, qui leur montre comment créer le type d'arche le plus solide avec de la corde!
Défi
À l'aide de morceaux de fromage géants, chaque équipe doit bâtir une arche de deux mètres de haut qui tient en place grâce à la gravité. Aucune colle permise! Puis les équipes doivent faire passer un test de résistance à leur structure en y déposant des ballons remplis d'eau. Les bâtisseurs de l'arche la plus solide remportent non seulement la victoire, mais aussi de vrais morceaux de fromage!
Brasse neurones
Michelle et Teanna recherchent une forme surprise en attachant des élastiques colorés à des clous. Elles doivent utiliser leurs habiletés spatiales pour prédire quelle forme en résultera.
Contenu éducatif
Les arches sont des structures très solides qui tiennent en place sans colle grâce à la gravité. Nous explorons aussi la symétrie, les prismes trapézoïdaux et les différents types d'arches.
---
Related Titles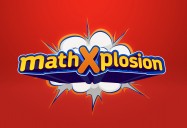 mathXplosion Series (Français)
GAPC Productions
GAPF05
Les maths nous entourent ! Joins-toi à Éric, le «mathémagicien» alors qu'il nous révèle...