Home / Aerodynamics: Look Kool (Season 1)
Aerodynamics: Look Kool (Season 1)

This item is only available for Canadian orders.
This title is a part of the series
Look Kool (Season 1)
Catalogue Number:
APT099
Producer:
Apartment 11
Subject:
Mathematics
,
Science
Language:
English
Grade Level:
3 - 5, 6 - 8
Country Of Origin:
Canada
Copyright Year
: 2015
Running Time:
22:00
Closed Captions:
Yes
Hamza notices that symetrical, slender shapes with smooth curves move faster through air. If a shape is not aerodynamic, drag and turbulence make it harder for them to move through air. The Investigators find streamlined objects designed to move efficiently through air: speedboats, bicycle helmets, and birds. Marc Garneau demonstrates the aerodynamic difference between flat and conical shapes. Streamlined shapes can also be hydrodynamic for things moving through water, like dolphins or penguins.
GUIDE
MORE RESOURCES



---
Related Titles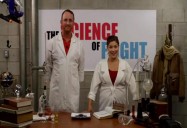 The Science of Flight and Aerodynamics: Plankton and Tube's...
McIntyre Media Inc.
MCI050
Building on the Properties of Air DVD, this new program introduces students to the science of...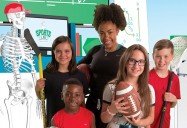 Tennis (The Magnus Effect - Effect of Spin): Sports Lab Series
Breakthrough Entertainment
BTE099
Host Nykeem doubles up with Chloe, a passionate young tennis player working to perfect her top...