Home / Domes: Look Kool (Season 1)
Domes: Look Kool (Season 1)

This item is only available for Canadian orders.
This title is a part of the series
Look Kool (Season 1)
Catalogue Number:
APT102
Producer:
Apartment 11
Subject:
Mathematics
,
Science
Language:
English
Grade Level:
3 - 5, 6 - 8
Country Of Origin:
Canada
Copyright Year
: 2015
Running Time:
22:00
Closed Captions:
Yes
The dome shape of an egg is a very strong it is under pressure. Domes like igloos, tops of buildings and new homes are energy efficient and resistant to winds. The dome shape of your skull protects your brain, and helmets add further protection. If you cut a sphere in half down the middle, you have two symmetrical domes. An igloo is made up of blocks arranged in a circle with each layer having smaller blocks. The peak of a dome is the strongest, and the curve distributes the weight evenly. Domes are made of rotated arches, and the oldest dome roofed building is the Pantheon in Rome. Natural domes include ladybugs, turtles and mushrooms. Geodesic domes,made of triangles and pentagons are super strong; an engineer describes how his profession uses math to solve problems.
---
Related Titles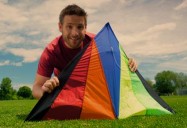 Math Stew - Bits 'n Bites (Part II): mathXplosion Series
GAPC Productions
GAP011
The emphasis is on the right angle, right triangle and equilateral triangle. Segments in this...