Home / Wedges: Look Kool (Season 1)
Wedges: Look Kool (Season 1)

This item is only available for Canadian orders.
This title is a part of the series
Look Kool (Season 1)
Catalogue Number:
APT104
Producer:
Apartment 11
Subject:
Mathematics
,
Science
Language:
English
Grade Level:
3 - 5, 6 - 8
Country Of Origin:
Canada
Copyright Year
: 2015
Running Time:
22:00
Closed Captions:
Yes
Wedges have been useful as tools for thousands of years. Wedges are made up of different shapes: two triangles and three quadrilaterals. A wedge is a triangular prism with five faces, nine edges, and six vertices. These simple machines can be tools such as chisels for carving, arrowheads for hunting, axe blades for chopping, and knife edges for cutting. Wedges have two inclined planes, and they can be short and thick or longer and thinner. The Investigators identify wedges around the house such as the claw of a hammer, the head of a crow bar, a screwdriver, a wedge cushion and a wedge of cheese. Wedges can push things apart, help lift things or keep things from moving. Shims are wedges that can be used to make things level. Teeth can be wedge shaped, a platypus shovels mud with its wedge-shaped bill, a woodpecker has a wedge shaped beak, and swimmers create a wedge shape when they dive. An archaeologist displays ancient wedge-shaped tools and shows how they were made.
---
Related Titles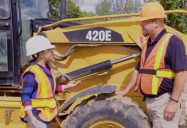 Machines: Finding Stuff Out (Season 5)
Apartment 11
APT068
Today we use all kinds of big machines like cranes, bulldozers and excavators to build things. But...