Home / Mackenzie Delta: Canada Over the Edge (Season 4)
Mackenzie Delta: Canada Over the Edge (Season 4)
This title is a part of the series
Canada Over the Edge (Season 4)
Tuktoyaktuk: The Community Freezer
Kylik Kisoun Taylor shows us the "community freezer," a tunnel dug in to the permafrost prior the availability of electricity, and used by local families to preserve their food through the warm summer months. Today it is still used by hunters and trappers in the region who rely on hunting and fishing.
Pingos of the Mackenzie Delta
Pilot George Sarantakos takes us on an aerial tour of the Mackenzie River Delta area over the disappearing tree line, the Distant Early Warning Line used during the Cold War, to the famous pingos. These Arctic and subarctic mounds of earth-covered ice can reach up to 70 metres in height. Pingos, the Inuvialuktun word for "small hill", were used by the Inuit as navigational aids and vantage points for spotting caribou and whales.
Mackenzie River Delta: An Important Watershed
The Mackenzie Watershed stretches more than 1700 kilometres inland to Great Slave Lake, covering an area larger than the province of Quebec. Gerry Kisoun introduces us to this important source of food, shelter and transportation for the Inuvialuit people for generations.
Inuvik's Community Greenhouse
Inuvik, a hub of the north, has a mix of long-time residents and those from away. Located just above the 68th Parallel, winter temperatures regularly drop to -40 degrees Celsius and there are 30 days with zero sunlight. Summers are warm and comfortable with 56 days of 24 hour brightness, making Inuvik's Greenhouse a very successful operation for half of the year.
---
Related Titles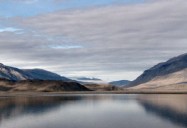 Quittinirpaaq National Park: A Park For All Seasons Series
Blue Ant Media
BAM018
Quittinirpaaq National Park is quite literally on top of the world. However, even in this pristine...