Home / Dempster Highway North: Canada Over the Edge (Season 4)
Dempster Highway North: Canada Over the Edge (Season 4)
This title is a part of the series
Canada Over the Edge (Season 4)
Catalogue Number:
BAM190
Producer:
Blue Ant Media
Subject:
Canadian History
,
Canadian Social Studies
,
Documentary
,
First Nations Studies
,
Geography
,
History
,
Music
,
Social Studies
,
Travel
Language:
English
Grade Level:
6 - 8, 9 - 12, Post Secondary
Country Of Origin:
Canada
Copyright Year
: 2015
Running Time:
52
Closed Captions:
Yes
The Dempster Highway was started in the 1950's as an industrial corridor for oil and gas reserves in Canada's far north. When Alaska struck oil in 1968, officials sped up the project. It was completed 1979, becoming the first Canadian, all-season highway to extend north of the Arctic Circle.
Canadian Reindeer Project: Gwich'in Territorial Park
The Gwich'in, translated "people of the flat lands", are one of the northernmost aboriginal peoples in North America. As caribou numbers dwindled in the 1920's, the Inuvialuit of the Mackenzie Delta thought Alaskan reindeer could potentially fill the gap. So, in 1929, a few men and a huge herd began the long and arduous trek east. It was more than they bargained for.
Gwich'in elder Robert Alexie believes it is crucial to keep the history and culture of their people alive. The Midway Lake Festival features a variety of cultural activities; traditional song, dance and music is kept alive and food like smoked caribou and smoked fish is served.
---
Related Titles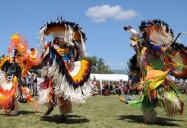 An Introduction to First Nations Culture and Traditions
McIntyre Media Inc.
MCI084
Before early European settlers arrived in what is Canada today, there were already many Aboriginal...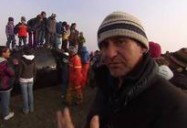 Alaska: Arctic, with Bruce Parry
BBC
BBC042
Bruce travels to Alaska, America's last great wilderness, where modern-day pioneers are harvesting...