Home / Niagara Escarpment: Undiscovered Vistas Series
Niagara Escarpment: Undiscovered Vistas Series
This title is a part of the series
Undiscovered Vistas Series
Niagara Falls is the only section of the 450-mile-long Niagara escarpment that most will ever see. But there is so much more to this ancient wall of fossil-rich sedimentary rock. The escarpment weaves its way through the Great Lakes region in the heart of central North America. At its highest point, almost 1,700 feet, the escarpment is four times the height of the Great Pyramid of Giza - and far older. The formation of the escarpment began about 450 million years ago, when it was the outer rim of a shallow sea known to geologists as the Michigan Basin.
The visual magnificence of the Niagara Escarpment is only really matched by the richness of its First Nations lore, dotted with epic tales of heroic figures and mysterious spirit worlds. Immerse yourself in the dazzling geological attractions of this truly historical corner of North America.
---
Related Titles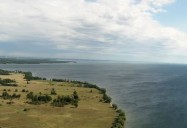 Lake Ontario: Canada Over the Edge (Season 3)
Blue Ant Media
BAM177
From high above the roar of Niagara Falls, we begin an aerial journey east, above the waters of...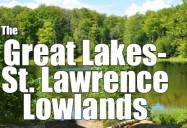 Our Canada: The Great Lakes - St. Lawrence Lowlands
McIntyre Media Inc.
MCI097
This is Canada's smallest geographic region in terms of area, however, it contains the most people...