Home / Intermediate Daily 5: Fostering Independent Literacy Learning in Grades 3-6
Intermediate Daily 5: Fostering Independent Literacy Learning in Grades 3-6

This item is only available for Canadian orders.
Imagine a classroom where there is a quiet, purposeful hum of literacy activity during workshops. Students read, write, and work with classmates independently. All this activity takes place with little monitoring from the teacher, who is busy conferring with students or meeting with small groups.

Tens of thousands of primary teachers throughout the world don't have to dream of this possibility -- they are using The Daily Five workshop management system, and seeing for themselves how students can take full responsibility for monitoring their behaviors and literacy learning. The Daily Five is a series of literacy tasks (reading to self, reading with someone, writing, word work, and listening to reading) which students complete while the teacher meets with small groups or confers with individuals. It is more than a management system or a curriculum framework; The Daily Five is a structure that will help students develop the habits that lead to a lifetime of independent literacy.

Now teachers in the intermediate grades are seeing the power of the system for older learners. This two-hour DVD takes viewers into grades 3-6 classrooms with Gail Boushey and Joan Moser (better known as "The Sisters") as your hosts. Filmed over two years in diverse classrooms, the program includes:

- Launching lessons for each of the five program components;
- "Good-Fit Books" and "Three Ways to Read a Book" lessons;
- Coaching sessions with teachers;
- Discussions of the specific needs of older learners;
- Sample troubleshooting sessions with students on dealing with crowded classrooms and missing materials;
- Suggestions for using The Daily Five in classrooms of students who have a range of previous experience with the program.
---
Related Titles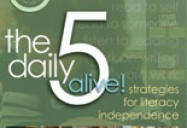 The Daily 5 Alive: Strategies for Literacy Independence
Stenhouse Publishers
000134
It's a common dilemma: Teachers need time to work in one-on-one conferences and in small groups...