Home / 419 Fraud: W5
419 Fraud: W5
Nigerian scams are among the oldest in the book,targeting victims through faxes, e-mail and letters and promising great financial rewards in exchange for a little help up front. While these schemes have been around for years, as W5 reveals, a new Canadian twist on this old scam has sent criminal's profits soaring.
---
Related Titles
Con Centre: W5
CTV
CTV708
W5 goes halfway around the world to investigate the scam that targeted tens of thousands of...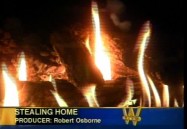 Stealing Home (W5)
CTV
CTV013
Mortgage fraud - it's a crime wave sweeping the country, and it's a problem no one wants to talk...