Home / Baby Business: The Murky World of Reproductive Medicine: W5
Baby Business: The Murky World of Reproductive Medicine: W5
The birth of a new baby signifies hope, promise and family. But for an estimated one in 10 Canadians it's a dream that is out of reach without the help of modern science and technology. Egg donation, sperm donation and surrogacy are all options available to infertile couples. But sometimes the desire to have a baby is so strong that it has led Canadians to venture into an increasingly murky world of assisted human reproduction. The Internet has opened up infertility treatments to a global marketplace. A world where searching for the perfect designer baby is available to those who can pay.
---
Related Titles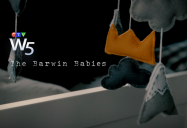 The Barwin Babies: W5
CTV
CTV756
W5's Avery Haines speaks to two young women whose lifelong belief that they were only children was...