Home / Canadian Originals
Canadian Originals
Catalogue Number:
CTV554
Producer:
CTV
Subject:
Character Education
Language:
English
Grade Level:
6 - 8, 9 - 12, Post Secondary, Adult
Country Of Origin:
Canada
Copyright Year
: 2012
Running Time:
68:00
Closed Captions:
Yes
Canadian Originals features short segments on the unique people that make this country great. Meet people like Ramesh Ferris - a polio survivor who raised awareness, money and support for others with the disease. Handcycling across Canada to bring attention to his cause was just one of the things this extraordinary Canadian Original did. Check out Canadian filmmaker Richard Fitoussi, and what he's doing to draw attention to the unending danger of landmines. Meet legally blind photographer Tara Miller from Manitoba who creates eye-opening works of art. These and many other people are profiled in this new series from CTV.
Segments Include:
Josh Dueck – a Canadian alpine paraplegic medal winner.
Denise Gagne –creator of a play-based music curriculum for kindergarten.
Eric Wan – quadriplegic creator of the virtual musical instrument.
McEwen Centre MaRS – landmark research in regenerative medicine.
Sugar Sammy – Canadian comedian bridges the English French cultural divide.
Jan Lisiecki – a virtuoso pianist, age 16, plays with the NAC orchestra.
Kate Beaton – a web cartoon artist has a large following.
Derek Miller – Six Nations rock star who fought addiction.
Father Thomas Dowd – blogging bishop uses social media to help others.
Neil Pasricha – author of bestseller "The Book of Awesome".
Luke Hayes-Alexander – 21 year old world famous chef in Kingston.
---
Related Titles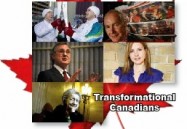 Transformational Canadians Series
CTV
CTV492
CTV has partnered with The Globe and Mail and Cyberpresse to celebrate Canadians who have sought to...