Home / Be A Donor: Canada AM
Be A Donor: Canada AM
Canadian organ donor advocate and recent transplant recipient Hélène Campbell catapulted organ donation awareness into the international spotlight with endorsements by Justin Bieber and Ellen DeGeneres. This Canada AM special features the first post-surgery, one-on-one TV interview with Campbell. The 21-year-old Ottawa native, who underwent a double lung transplant last month, will speak to CANADA AM about how she is doing since her dream of receiving a pair of new lungs became a reality.

In addition, CANADA AM will examine all aspects of organ donation in the special "Be A Donor" including:
Life on the Waiting List: Garry Keller, who has maintained his job as Chief of Staff to Foreign Affairs minister John Baird while waiting for a kidney match. Keller talks about what it's like being on the waitlist for seven years.
The Living Donor: Richard Ayuen donated 70 percent of his liver to his son Matthew
Making the Decision: The Castillo family who chose to donate the organs of their 15-year-old son Manny who died in a sporting accident. Their decision saved five lives.
The Recipient: Mississauga native, jazz singer and double lung transplant patient, Alex Pangman, who experienced what it's like to have new life after the gift of organ donation.
Be A Donor: CANADA AM examines the process of organ donation and discusses the challenges of the system with Versha Prakash, the Vice-President of Operations for Trillium Gift of Life Network (TGLN), Ontario's organ and tissue donation and transplant agency.
---
Related Titles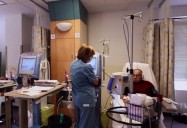 The Ward
ID Productions
ID0000
We are in a crisis: While Canada consistently has one of the worst organ donor rates in the Western...