Home / Canine Comrades: W5
Canine Comrades: W5
A program in Manitoba is helping soldiers suffering from PTSD by pairing them up with psychiatric service dogs. The service dog program has reduced the amount of medication needed for many Canadian soldiers with PTSD to function. So why won't Ottawa pick up the tab?
Certified dog trainer George Leonard talks about how psychiatric service dogs help soldiers who are showing symptoms of PTSD.
---
Related Titles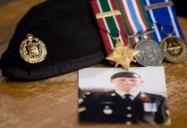 Dying for Help: W5
CTV
CTV631
Cpl. Stuart Langridge didn't die in battle. His story is a spiral from a decorated, successful...