Home / Sleeping Sickness: W5
Sleeping Sickness: W5
W5 investigates the story of a young girl who suffers from narcolepsy and gets an inside look at how the child's condition affects the whole family. Avis Favaro speaks to medical experts about the investigation on the link between vaccines and children with narcolepsy.

Includes Bonus Segment:
W5 Extended - Dr. Emmanuel Mignot discusses how strong the link is between vaccinations and narcolepsy.


---
Related Titles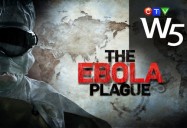 The Ebola Plague: W5
CTV
CTV638
It can seem as odd as it is frightening, how a virus that can be killed with a bit of bleach can be...
Investigating the Immune System
Visual Learning Systems
110210
This video explores the wide range of defense mechanisms the body calls upon to fight foreign...