Home / Howie's Horrors: W5
Howie's Horrors: W5
Catalogue Number:
CTV652
Producer:
CTV
Subject:
Biography
,
Documentary
,
Guidance
,
Health and Medicine
Language:
English
Grade Level:
9 - 12, Post Secondary, Adult
Country Of Origin:
Canada
Copyright Year
: 2015
Running Time:
20:00
Closed Captions:
Yes
In our lengthy W5 interview, Howie Mandel opens up about an episode in his youth that his therapists believe has been a very big trigger in his Obsessive Compulsive Disorder. It was something that happened to him that was so horrible, when he recounts it to us you can still see the terror in his eyes.
He has also been diagnosed as an adult with Attention Deficit Hyperactivity Disorder, the reason he has always had enormous trouble sitting still for very long - and the reason his early stage performances were so manic. Both are treated now with medication, but Mandel has also had to develop an extraordinary discipline in how he thinks to be able to make it through.
W5's Kevin Newman sits down with Howie Mandel to discuss his family, his future, his therapy and the death of a comedian friend.



---
Related Titles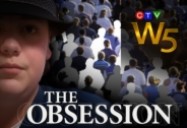 The Obsession: W5
CTV
CTV552
We all have nagging worries - did I turn off the stove? Did I lock the door? But for Canadians with...