Home / Hot Wheels: W5
Hot Wheels: W5
Cargo theft is one of the most lucrative criminal activities in Canada, but it rarely makes headlines. And yet it's costing consumers and the economy an estimated $5 billion a year. W5's Tom Kennedy tracks down surveillance footage showing how quickly thieves can steal a rig and investigates the lack of security at some truck yards.
---
Related Titles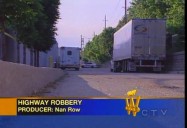 Highway Robbery (W5)
CTV
CTV350
On the evening of June 21st, 2006, Donny Woods and his 18-wheeler pulled into the A&P grocery store...