Home / Canada's Commandos: W5
Canada's Commandos: W5
CTV's Chief News Anchor and Senior Editor Lisa LaFlamme delivers a never-before-seen look inside Canada's ultra-elite team of soldiers training foreign troops to fight ISIS.
CANSOFCOM is made up of 5 different units. There are the ultra-secret JTF2, protecting Canadians from terrorism at home and abroad and the Canadian Joint Incident Response Unit, tasked with dealing with nuclear, biological and chemical threats.
Then there are the Commandos of CSOR and dedicated air support for all of these troops, the 427 Special Operations Aviation Unit. Finally, there is the school that teaches the skills required for potential deployment, CSOTC, The Canadian Special Operations Training Centre.
---
Related Titles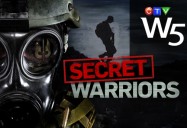 Secret Warriors: W5
CTV
CTV632
W5 goes behind-the-scenes for an exclusive look at CSOR (Canadian Special Operations...