Home / Troubled Waters: W5
Troubled Waters: W5
"TROUBLED WATERS" takes viewers to local communities currently facing off against the bottled water industry, as they fight to protect the precious natural resource from flowing out of their communities. W5's Victor Malarek investigates how Swiss transnational food and drink giant Nestlé is pumping a staggering 1.7 billion litres of fresh water out of wells in Ontario each year. Across the country in Hope, British Columbia, Nestle is pumping 311 million litres a year out of wells, with some local residents complaining that the water is being extracted only to be given away for free.
In Ontario, Nestlé pays only $3.71 per million litres of water pumped from the ground, while in British Columbia that cost is even lower – only $2.25 per million litres. Malarek interviews local residents concerned about this essential community resource being exploited for profit, and worried about depletion of groundwater aquifers. Nestlé Waters Canada insists it monitors groundwater levels to ensure there is no negative impact on local aquifers, while contending they are prepared to pay a fair price for the water they are pumping.
---
Related Titles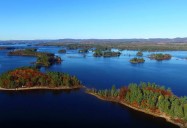 Water: Canada's Natural Resources Series
LeMay Media
LM0014
Water: This program looks at the state of water in Canada, a natural resource that is often taken...