Home / Nuclear Tomb: W5
Nuclear Tomb: W5
W5's Lloyd Robertson heads to Kincardine, Ontario, an idyllic cottage destination along the banks of picturesque Lake Huron. Home to nearly 12,000 residents, Kincardine is also the home of Bruce Power, the world's largest nuclear power station – a private facility under lease from Ontario Power Generation (OPG). While nuclear power may be praised for being clean and cheap, it creates an unwelcome dilemma: nuclear waste, and what to do with it.
W5 spotlights OPG's waste management system and its plans to build an underground bunker known as a Deep Geologic Repository (DGR) to contain some of Ontario's nuclear waste. Robertson interviews residents, activist groups, and politicians on both sides of the border to spotlight how the DGR project – with a proposed site only 1.2 kilometres from Lake Huron, part of the Great Lakes system and a source of drinking water for more than 40 million people – is dividing communities concerned with the safe and secure storage of nuclear waste.
---
Related Titles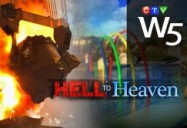 Hell to Heaven: W5
CTV
CTV609
W5's Todd Battis investigates how what was once considered the most toxic spot in North America was...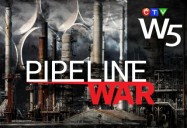 Pipeline War: W5
CTV
CTV619
W5 investigates the pipeline war being waged over the future of Enbridge's Line 9 oil pipe, which...