Home / Home Food Away From Home (Episode 3 - Kingston, ON): Kid Diners Series
Home Food Away From Home (Episode 3 - Kingston, ON): Kid Diners Series

This item is only available for Canadian orders.
This title is a part of the series
Kid Diners Series
Aynalem and Xander are going on a food journey around the world all in one city… Kingston, Ontario! Xander scares up some juicy tomatoes for an authentic Italian dish, while Aynalem finds herself hopping in a field for fresh garlic to put in a very French tasting crepe!
---
Related Titles
Ice Cream: The Know It All Guide To... Series
Blue Ant Media
BAM631
From elastic ice cream to affogato, baking emergencies to brain freeze, The Know It All Guide has...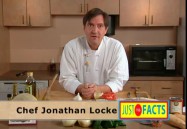 Superfoods - Just the Facts Series
Learning ZoneXpress
430051
Chef Jon presents nutrient-dense foods in delicious recipes. Featured foods include avocado, black...