Home / Libera Nos
Libera Nos

This item is only available for Canadian orders.
Claims of Satanic possession are increasing around the world. In meeting the demands of those desperately seeking help, the Catholic Church responds with the solution they've employed for centuries: exorcisms. A new wave of exorcist priests is being trained, while veteran Sicilian priest Father Cataldo maintains his stern, diligent practice of the controversial method. His weekly mass is filled with those seeking a cure for the demons they feel they have within them. They cling to the power of their faith as the ultimate source of inner peace but whatever the root of their anguish, it's evident many are suffering. It's here that you start to see the true cost of deliverance. As priests attempt to cast Satan backdown, the business of exorcism continues to rise.
Italian with English Subtitles.
---
Related Titles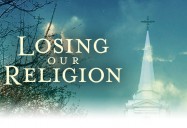 Losing Our Religion
Indiecan Entertainment Inc.
ICE017
Losing Our Religion is a feature length documentary about preachers who are not believers, and what...