Home / Long Point Biosphere Reserve, Ontario (Episode 8): Striking Balance Series 1
Long Point Biosphere Reserve, Ontario (Episode 8): Striking Balance Series 1

This item is only available for Canadian orders.
This title is a part of the series
Striking Balance Series 1: Exploring Canada's Biosphere Reserves
Reaching forty kilometres into Lake Erie, Long Point in Ontario, is the world's longest freshwater sand spit. How the Point's endless beaches endure as a natural oasis, here in Canada's most densely populated region, is a feat that involves more than just your typical environmentalists. This is a story of hunters, farmers, foresters, birders, biologists, and just about everyone else in the Long Point Biosphere Reserve – who have learnt from conservation pioneers how to cultivate biodiversity, culture, and an economy, on a foundation of sand. Now, at almost 30% natural cover, it's hard to believe that at one time, thousands of acres here were devoid of vegetation – a desert in the lush Canadian south.
---
Related Titles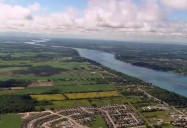 Ontario South: Canada Over the Edge (Season 3)
Blue Ant Media
BAM176
We explore the rich history and landscape of the Lake Erie region from Windsor/Detroit to the town...