Home / The Last of the Voyageurs: Reflections of a Northern Crusader
The Last of the Voyageurs: Reflections of a Northern Crusader
This film is a quirky piece of Canadiana. A wonderful funny, yet poignant story to help celebrate Canada, but more importantly, it pays homage to the men and women who served and continue to serve in the Canadian military. Mike Ranta is a modern-day Voyageur. He is the first solo canoeist to cross the North American continent in one season. Mike dedicated his paddling efforts to raising awareness and respect for the challenges Canadian soldiers face in and after being in a war zone. He and his dog Spitzii visited many Canadian Legions along the way and he dedicated his trip to past and present Canadian veterans. Mike reflects on the people he met, the changing Canadian environment and the challenges associated with embarking on such an adventure.
---
Related Titles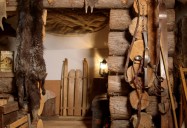 More Than Just the Fur Trade
LeMay Media
LM0017
A 20 minute video chronicling the role the fur trade played in the history of Canada. The...