Home / No Time for Stories/Stick to the Plan: Louis Says Series (Episode 2)
No Time for Stories/Stick to the Plan: Louis Says Series (Episode 2)

This item is only available for Canadian orders.
This title is a part of the series
Louis Says: Season 1
Episode 2A: No Time for Stories - Louis asks Randy to help Mr. Thompson collect the medicinal plant known as rat root. He also tells him bring muskimot (a bag) with him. Randy thinks that muskimot means hiking shoes. He borrows Anne's hiking shoes. The hiking shoes Randy is wearing are too small and his feet begin to hurt.
Lesson: There is time for fun, and there is time to focus on your chores.
Episode 2B: Stick to the Plan - Louis tells Randy that he needs to deliver kinowacigosa (long wooden sticks) to Mr. Thompson, and cimacigosa (short wooden sticks) to Mr. Charles. Randy begins to wonder which wooden sticks are for Mr. Charles and which ones are for Mr. Thompson. When Randy arrives at Mr. Thompson's house he finds out that he has brought the wrongs sticks.
Lesson: Teamwork can help get things done faster and better.
Golden Sheaf Award Nominee - 2014 Yorkton Film Festival
---
Related Titles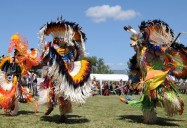 An Introduction to First Nations Culture and Traditions
McIntyre Media Inc.
MCI084
Before early European settlers arrived in what is Canada today, there were already many Aboriginal...