Home / Skipping the Rope/Car Trouble: Louis Says Series (Episode 7)
Skipping the Rope/Car Trouble: Louis Says Series (Episode 7)

This item is only available for Canadian orders.
This title is a part of the series
Louis Says: Season 1
Episode 7A: Skipping the Rope - Louis asks Randy to bring peminuhkwan (rope) to Mr. Thompson. Katie tells Randy that she heard her sister saying the word peminuhkwan when she was skipping the rope. Randy thinks that Mr. Thompson needs a skipping rope, but what Mr. Thompson needs is a rope to hang his hammock.
Lesson: Exercising is important to keep our bodies healthy.
Episode 7B: Car Trouble - Louis tells Randy to help Mr. Thompson kitchistin (clean) his car. Randy meets Katie, who thinks kitchistin the car means, fix the car. The kids decide to ask Mr. Charles for tools, and then go to Mr. Thompson's house. Mr. Thompson tells Randy that his car is working fine, and that what he needs to do is clean it.
Lesson: Cars, tools and machines are not toys.
Golden Sheaf Award Nominee - 2014 Yorkton Film Festival
---
Related Titles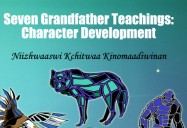 Seven Grandfather Teachings: Character Development Niizhwaaswi...
McIntyre Media Inc.
MCI059
Before the early settlers arrived in what is Canada today, there were already many Indigenous...