Home / The Big Pie Sale/Colours of the Quilt (Cree Version): Louis Says Series (Episode 3)
The Big Pie Sale/Colours of the Quilt (Cree Version): Louis Says Series (Episode 3)

This item is only available for Canadian orders.
This title is a part of the series
Louis Says: Season 1 (Cree Version)
Episode 3A: The Big Pie Sale - Louis tells Randy that he has to deliver kuhkithuw (all) the blueberries to Mrs. Charles. Randy picks up only one pail. When Randy arrives to Mrs. Charles' house with one pail of blueberries she tells him that she's having a pie sale, and the one pail of blueberries isn't enough for the number of pies she's going to bake.
Lesson: If you don't get it right the first time, you can try again until you get it right.
Episode 3B: Colors of the Quilt - Louis tells Randy he needs to get Mrs. Charles some mihkwêkin (red fabric), sîpihkwêkin (blue fabric), osâwêkin (yellow fabric). Randy doesn't know what those words mean. Randy and Katie mistakenly think that the Cree words Louis told Randy mean red, blue and yellow or orange skirts instead of red, blue and yellow fabric.
Lesson: Kids should listen carefully and patiently to what adults have to say.
** Spoken in Cree with English subtitles. **
Golden Sheaf Award Nominee - 2014 Yorkton Film Festival
---
Related Titles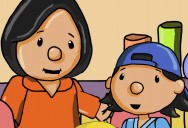 Mr. Charles Wants to Sleep/Light up the Party (Cree Version):...
Louis Says Productions Inc.
LSC015
Episode 1A - Mr. Charles Wants to Sleep: Mr. Charles needs to cover his miskîsikwa (eyes) so he...