Home / The Birdhouse/Lost and Found (Cree Version): Louis Says Series (Episode 5)
The Birdhouse/Lost and Found (Cree Version): Louis Says Series (Episode 5)

This item is only available for Canadian orders.
This title is a part of the series
Louis Says: Season 1 (Cree Version)
Episode 5A: The Birdhouse - When Randy arrives at Louis' house, he's given the task of the day, which is to get pitheses (bird) food for Mr. Charles. Katie thinks pitheses means fish. When they get to Mr. Charles' house, the kids find him outside, building a bird house. Mr. Charles tells them that he needs bird food, not fish food.
Lesson: It's important to take care of our pets.
Episode 5B: Lost and Found - Louis tells Randy that he needs to find a box for wanihta ikwa miska (lost and found) for the community centre. Katie thinks wanihta ikwa miska means hide and seek. Randy thinks that Louis wants to play hide and seek the next time there's an event at the community centre, and he wants a box to hide in.
Lesson: When we find something that belongs to someone else, we put it in a lost and found box.
** Spoken in Cree with English subtitles. **
Golden Sheaf Award Nominee - 2014 Yorkton Film Festival
---
Related Titles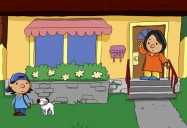 The Cold Truth/Mrs. Charles Bakes a Cake (Cree Version): Louis...
Louis Says Productions Inc.
LSC016
Episode 1A - The Cold Truth: Randy learns about adapting to the changing of seasons. Takwakin...