Home / Digging for Dinosaurs/Some Kind of Syrup (Cree Version): Louis Says Series (Episode 6)
Digging for Dinosaurs/Some Kind of Syrup (Cree Version): Louis Says Series (Episode 6)

This item is only available for Canadian orders.
This title is a part of the series
Louis Says: Season 1 (Cree Version)
Episode 6A: Digging for Dinosaurs - Randy tells Randy that Emily's son wants a dinosaur musinahikan (book). Randy thinks that, since dinosaurs are extinct, Louis wants him to find dinosaur bones. He invites Katie and Anne to help him with the task. The kids start digging for bones, but all they find is a bone that Osky buried.
Lesson: Reading books gives us both knowledge and joy.
Episode 6B: Some Kind of Syrup - Louis tells Randy to get siwakamisikan (birch syrup) for Mrs. Charles. Randy meets his friend Katie, who tells him that siwakamisikan is a special type of syrup, but he doesn't know exactly which kind. Randy assumes that siwakamisikan means cough syrup. Mrs. Charles almost poured the cough syrup on her pancakes.
Lesson: Kids should never take medications without adult supervision.
** Spoken in Cree with English subtitles. **
Golden Sheaf Award Nominee - 2014 Yorkton Film Festival
---
Related Titles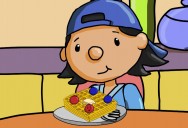 Mr. Charles Builds a House/Poor Porcupine (Cree Version): Louis...
Louis Says Productions Inc.
LSC014
Episode 1A - Mr. Charles Builds A House: Randy and Katie search for the perfect location for an...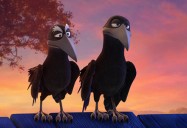 In A Jam: The Mooh Brothers
Breakthrough Entertainment
BTE206
The Mooh Brothers pick blueberries. Wilton asks Conley to help him make jam, but scares Conley when...