Home / Cantonese: Confucius Was a Foodie! A New World Adventure in an Ancient Cuisine (Season 1)
Cantonese: Confucius Was a Foodie! A New World Adventure in an Ancient Cuisine (Season 1)

This item is only available for Canadian orders.
This title is a part of the series
Confucius Was a Foodie! A New World Adventure in an Ancient Cuisine (Season 1)
Chef Christine Cushing tastes the worst and the best Cantonese; food that makes her question what she has previously considered 'Cantonese'. She learns dim sum-making in New York's oldest parlor, has a Cantonese breakfast in California's San Gabriel Valley and discovers that real Cantonese is a living example of the Confucian principle that food must always be fresh, seasonal and local. A principle that today's foodies believe is modern is actually from the precepts of a 2,500 year old philosopher!
---
Related Titles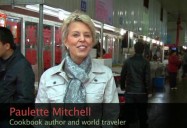 World Food Markets: China
Learning ZoneXpress
430113
In densely populated Chinese cities, modern life contrasts with timeless traditions. A high value...