Home / The Four Seasons: Daily and Seasonal Changes
The Four Seasons: Daily and Seasonal Changes
Catalogue Number:
MCI037
Producer:
McIntyre Media Inc.
Subject:
Science
Language:
English
Grade Level:
PreK - 2, 3 - 5
Country Of Origin:
Canada
Copyright Year
: 2011
Running Time:
39
From the first flowers of spring to the snow of winter, children see the wonder and magic of our changing seasons and the patterns of life. Both live-action and animated sequences focus on easily observed changes that occur in cycles, including day and night and the four seasons. Children observe how these changes affect plants, animals and human life. Concepts and terminology covered include: adaptation, behaviour, cycle, daily, daytime, dormant, energy, heat, hibernation, light, migrate. nighttime, seasons, shadow, sun, survival, temperature, today, tomorrow, yesterday.
Includes: Fully chaptered DVD (37 mins total - 6 segments include: Intro; Spring; Summer; Fall; Winter; and Seasonal Saftey Tips), reproducible PDF Teacher's Guide with student activities, plus BONUS 9 minute program, Seasonal Safety Tips with Sammy the Squirrel program.
GUIDE



---
Related Titles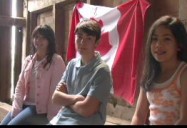 Canadian Holidays, Traditions and Celebrations
McIntyre Media Inc.
MCI013
In this program, we focus on the holidays, celebrations and traditions that are linked to the first...