Home / Residential Schools: Truth & Reconciliation in Canada
Residential Schools: Truth & Reconciliation in Canada
Indian Residential Schools are a part of our shared history in Canada. Prior to European contact, First Nations people had their own education system, governing system, beliefs and customs. While some positive alliances were established, the arrival of missionaries and others kicked off a systematic attack on the traditional customs and culture of native communites.
Through a series of government proclamations, acts and treaties, aboriginal groups across the country began to lose the land they depended on for survival. A major part of the treaty agreements was the establishment of a good education system for aboriginal children. As momentum for settlement of the west and the building of a national railway grew, so did the Canadian governments need to fulfill the obligations of these treaties.
In 1883, Prime Minister Sir John A. Macdonald authorized the creation of three "industrial schools." Thus began the misguided attempt "to kill the Indian in the child." Between 1879 and 1986, at least 150,000 aboriginal children in Canada - almost a third of aboriginal children - were forcibly removed and placed into Indian Residential Schools. The assault on Aboriginal identity began the moment children took their first step across the school's threshold. Their unique culture was stripped away to be replaced with a foreign European identity. Their family ties were cut, clothes replaced, and children were prevented from returning home.
The telling of Canada's history is not complete without this story. Some refer to it as a "cultural genocide". Generations upon generations of aboriginal people have been affected by the abuse and horrors experienced in these schools.The Truth and Reconciliation Summary that was undertaken as an element of the Indian Residential Schools Settlement Agreement outlines 94 recommendations for achieving a full reconciliation between Canada's native and non-native peoples.
---
Related Titles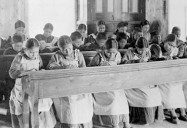 An Overview of Residential Schools in Canada (Elementary Version)
McIntyre Media Inc.
MCI082
First Nations people have lived in this country for many thousands of years. They were here long...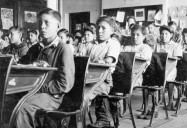 Residential Schools: Truth and Reconciliation in Canada
McIntyre Media Inc.
MCI086
Indian Residential Schools are a part of our shared history in Canada. Prior to European contact...