Home / Growth and Changes in Plants
Growth and Changes in Plants
This title is a part of the series
Growth and Changes Series
Growth and Changes in Plants focuses on the characteristics and requirement of plants and the ways in which plants grow. Students will learn the major parts of a plant, including the root, stem, flower, stamen, pistil, leaf, seed and fruit. The basic needs of plants are detailed as well as a description of the life cycle. Students are introduced to the concept of photosynthesis as a means of plants getting energy to live and the role of the sun in this process. Included is a description of how humans from various cultures, including Aboriginal people, use plants for food, shelter, medicine and clothing.
GUIDE



---
Related Titles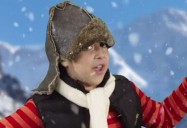 Extreme Cold: Finding Stuff Out (Season 4)
Apartment 11
APT053
"Can I freeze myself and then come back to life?" Why do things change when they're frozen?...