Home / The Curious Case of Vitamins and Me
The Curious Case of Vitamins and Me

This item is only available for Canadian orders.
The Curious Case of Vitamins and Me consults with leading health and nutrition experts in an attempt to debunk myths and misconceptions around vitamins and supplements, and determine the best course of action for optimal nutritional health. Using a fast paced, fun and energetic style, The Curious Case of Vitamins and Me, directed and written by Bryce Sage, examines the role geography and skin color play in our need for Vitamin D and includes an insightful visit to a supplement factory in order to understand where they originate. On his quest to further understand the world of vitamins, Bryce also learns that over-supplementing with certain vitamins can have lethal consequences.
"Everybody should watch this film, especially the young. Eat a varied and healthy diet and you get your needed vitamins. But what is a healthy diet? Watch this fabulous documentary and pass the word!" - Dr. Laura Nader, UC Berkley
---
Related Titles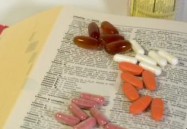 Vitamins: Elements of Human Nutrition Series
Learning Seed
200222
Do you hear the word "vitamins" and envision pills? In fact, our main source of vitamins is the...