Home / The Frozen Goose
The Frozen Goose

This item is only available for Canadian orders.
Catalogue Number:
MLH000
Producer:
MLH Productions
Producers:
Holton, Margaret Lindsay
Producing Agencies:
MLH Productions
Subject:
Canadian History
,
Canadian Literature
,
Canadian Social Studies
,
Character Education
,
Drama
,
English
,
Guidance
,
Health and Medicine
,
History
,
Language Arts
,
Literature
,
Music
,
Social Studies
Language:
English
Grade Level:
6 - 8, 9 - 12, Post Secondary, Adult
Country Of Origin:
Canada
Copyright Year
: 2016
Running Time:
25:00
Closed Captions:
Yes
Based on the short story, The Frozen Goose from award-winning Canadian author, artist and photographer Margaret Lindsay Holton. A rural family cope in the aftermath of WWI. Classic Canadiana!
Margaret Lindsay Holton has brought her short story to life in this new production. World War One has ended. The men are coming home from the Great War: tired and worn out. A shell-shocked soldier returns to the farm of his best friend (who died heroically at Vimy Ridge). By virtue of a promise, he tries to 'fill the boots' of Father, Husband and Provider. He fails miserably. The widow is luke-warm, the children are unruly, and he just cannot find work. As his depression prevails, the two young children decide to take matters into their own hands. Bella announces she will work at her Uncle's store, some five miles away. She sets off, with Charlie trailing. All goes well enough. Uncle Harry lends a sympathetic ear to their troubles on the homefront and tops off their visit with a generous gift of a BIG FAT FROZEN GOOSE.
Official selection for the 'Ontario Shorts" program - Hamilton Film Festival November 2017.
"The Frozen Goose would be perfect to use in educating future audiences about PTSD issues as well as the Vimy Ridge conflict itself." – Short Film Fan: News and Reviews about Canadian short films
---
Related Titles
Konowal: The Man Behind the Medal
Guerrilla Films
GF0004
The narrative follows the life of Filip Konowal, the only Ukrainian Canadian to receive the...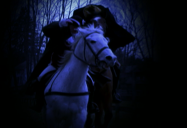 The Legend of Sleepy Hollow
Jim Ormond
JO0000
First written in 1820 as part of author Washington Irving's The Sketchbook of Geoffrey Crayon...