Home / To the Moon and Back: Brewster the Rooster Series
To the Moon and Back: Brewster the Rooster Series

This item is only available for Canadian orders.
This title is a part of the series
Brewster the Rooster Series
The friends play with Brewster's new telescope. They use it to look at the moon, but Carrick can only see half, which makes them wonder 'Where is the other half of the moon?' They travel to the moon and discover where the other half could be.
Discover answers to questions only young children ask! Through creative thinking, Brewster and Maggie take young viewers on a journey of discovery in a way that will not only entertain, but will get their creative thinking caps on!
Based on the book series `Brewster the Rooster' by Clifford Parrott.
---
Related Titles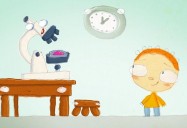 The Day Henry Met...A Microscope
Monster Entertainment
MON045
Henry meets a Microscope. He has discovered the cure for smelly burps but when the that cure is...