Home / Stink, Stank, Stunk: Brewster the Rooster Series
Stink, Stank, Stunk: Brewster the Rooster Series

This item is only available for Canadian orders.
This title is a part of the series
Brewster the Rooster Series
Brandon shows Brewster and Maggie his composter. They wonder 'Why do flies like to hang around stinky stuff?' Inside the composter they meet Mortimer Fly and his mother Mummy Fly, who explain that stinky places are ideal areas to lay eggs.
Discover answers to questions only young children ask! Through creative thinking, Brewster and Maggie take young viewers on a journey of discovery in a way that will not only entertain, but will get their creative thinking caps on!
Based on the book series `Brewster the Rooster' by Clifford Parrott.
---
Related Titles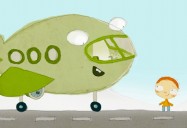 The Day Henry Met...An Aeroplane
Monster Entertainment
MON052
Henry meets a friendly Aeroplane. He's had a busy day flying around the world but he finds out he...