Home / Salty Brine: Brewster the Rooster Series
Salty Brine: Brewster the Rooster Series

This item is only available for Canadian orders.
This title is a part of the series
Brewster the Rooster Series
Brewster and the gang meet Cod Wriggles and ask 'why is the ocean salty?' They take a dive into the ocean and use their imaginations to come up with different scenarios before Cod explains that rivers and streams carry salt into the sea from the land.
Discover answers to questions only young children ask! Through creative thinking, Brewster and Maggie take young viewers on a journey of discovery in a way that will not only entertain, but will get their creative thinking caps on!
Based on the book series `Brewster the Rooster' by Clifford Parrott.
---
Related Titles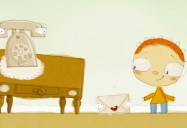 The Day Henry Met...A Letter
Monster Entertainment
MON027
Henry meets a Letter as he prepares for her first trip out into the world. She has missed the...