Home / Thunder Blunder: Brewster the Rooster Series
Thunder Blunder: Brewster the Rooster Series

This item is only available for Canadian orders.
This title is a part of the series
Brewster the Rooster Series
Brewster is frightened when he hears thunder, and the friends ask, 'What makes the sound of thunder?' Up in the clouds, they meet Cloudy Nimbus who informs them that the clouds rub together and release their shock called lightening and that makes the loud sound.
Discover answers to questions only young children ask! Through creative thinking, Brewster and Maggie take young viewers on a journey of discovery in a way that will not only entertain, but will get their creative thinking caps on!
Based on the book series `Brewster the Rooster' by Clifford Parrott.
---
Related Titles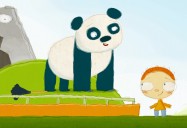 The Day Henry Met...A Panda
Monster Entertainment
MON028
Henry meets a Panda preparing for a visit from her cousin, but when she arrives it's obvious there...