Home / Paper Dreams: Brewster the Rooster Series
Paper Dreams: Brewster the Rooster Series

This item is only available for Canadian orders.
This title is a part of the series
Brewster the Rooster Series
Brewster, Maggie, Ethan and Connor, are playing with paper airplanes. Ethan wonders 'How do real planes stay up in the sky?' The friends meet Speedy the Plane who describes how he goes very fast and this means his wings lift him into the air.
Discover answers to questions only young children ask! Through creative thinking, Brewster and Maggie take young viewers on a journey of discovery in a way that will not only entertain, but will get their creative thinking caps on!
Based on the book series `Brewster the Rooster' by Clifford Parrott.
---
Related Titles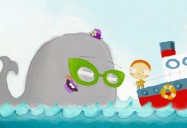 The Day Henry Met...A Whale
Monster Entertainment
MON031
Henry meets a friendly Whale. Henry learns all about how whales breath underwater but unfortunately...