Home / Eyes Have It: Brewster the Rooster Series
Eyes Have It: Brewster the Rooster Series

This item is only available for Canadian orders.
This title is a part of the series
Brewster the Rooster Series
Brewster, Maggie and Carrick are bird watching. They wonder 'Why do we have two eyes but only see one thing?' Brewster takes the gang to meet the eyes, Arnie and Arlene who explain that with both eyes you can tell how far away things are.
Discover answers to questions only young children ask! Through creative thinking, Brewster and Maggie take young viewers on a journey of discovery in a way that will not only entertain, but will get their creative thinking caps on!
Based on the book series `Brewster the Rooster' by Clifford Parrott.
---
Related Titles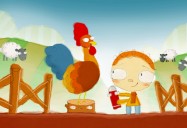 The Day Henry Met...A Rooster
Monster Entertainment
MON033
Henry meets a friendly Rooster. Rooster needs to wake up the farmer so he can feed the animals but...