Home / Warm Summer Bites: Brewster the Rooster Series
Warm Summer Bites: Brewster the Rooster Series

This item is only available for Canadian orders.
This title is a part of the series
Brewster the Rooster Series
Mosquitoes are biting Maggie when Helvetica Frog asks 'Why do mosquitoes bite people?' Brewster shrinks them down to mosquito size and they meet Bubba Buzzer who explains that it's only female mosquitoes that bite because they need to feed their babies.
Discover answers to questions only young children ask! Through creative thinking, Brewster and Maggie take young viewers on a journey of discovery in a way that will not only entertain, but will get their creative thinking caps on!
Based on the book series `Brewster the Rooster' by Clifford Parrott.
---
Related Titles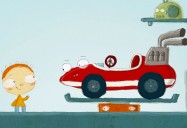 The Day Henry Met...A Car
Monster Entertainment
MON034
Henry meets a friendly Racing Car. Henry learns about engines and finds out that Racing Car has...