Home / Flat as a Pancake: Brewster the Rooster Series
Flat as a Pancake: Brewster the Rooster Series

This item is only available for Canadian orders.
This title is a part of the series
Brewster the Rooster Series
Brewster slips on a globe and Hamish wonders "Why does the world look flat?' The friends become astronauts and talk to the moon. He tells them that because they are so small compared to the earth that it looks flat to them.
Discover answers to questions only young children ask! Through creative thinking, Brewster and Maggie take young viewers on a journey of discovery in a way that will not only entertain, but will get their creative thinking caps on!
Based on the book series `Brewster the Rooster' by Clifford Parrott.
---
Related Titles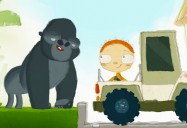 The Day Henry Met...A Gorilla
Monster Entertainment
MON041
Henry meets a friendly Gorilla. He's moved from the Jungle to the wildlife park for some peace and...