Home / Goneasaurus: Brewster the Rooster Series
Goneasaurus: Brewster the Rooster Series

This item is only available for Canadian orders.
This title is a part of the series
Brewster the Rooster Series
Brewster, Maggie and the twins find a toy dinosaur. They wonder 'Why don't we see real dinosaurs?' Brewster takes them to meet Dino-Biggles who describes how long ago the weather changed and the dinosaurs couldn't survive in it, so became extinct.
Discover answers to questions only young children ask! Through creative thinking, Brewster and Maggie take young viewers on a journey of discovery in a way that will not only entertain, but will get their creative thinking caps on!
Based on the book series `Brewster the Rooster' by Clifford Parrott.
---
Related Titles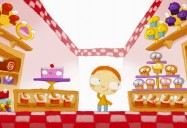 The Day Henry Met...A Cake
Monster Entertainment
MON042
Henry meets a Birthday Cake. He is getting ready to be collected from the bakers when they realise...