Home / Me and My Shadow: Brewster the Rooster Series
Me and My Shadow: Brewster the Rooster Series

This item is only available for Canadian orders.
This title is a part of the series
Brewster the Rooster Series
Brewster and Maggie are at Ginger's Shadow Show. She wonders 'What are shadows made of?' Brewster takes them to meet Atom Adam who explains to the friends that shadows are made when something blocks the light from shining.
Discover answers to questions only young children ask! Through creative thinking, Brewster and Maggie take young viewers on a journey of discovery in a way that will not only entertain, but will get their creative thinking caps on!
Based on the book series `Brewster the Rooster' by Clifford Parrott.
---
Related Titles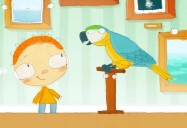 The Day Henry Met...A Parrot
Monster Entertainment
MON046
Henry meets a Parrot who has been left a secret treasure map by his grandfather and with Henry's...