Home / Eco-Creatures - Ep. 213: Planet Echo (Season 2)
Eco-Creatures - Ep. 213: Planet Echo (Season 2)
This title is a part of the series
Planet Echo (Season 2)
In this adventure we find out how animals are helping us to help the environment.
ADVENTURE: Chuck and Andy go in search of the endangered NENE goose on the big island of Hawaii (the Nene is actually just a Canada Goose).
THE LAB: Dr. Greenie plans to create an army of giant pink Guinea Pigs to help clean up the planet. GP is not so sure.
---
Related Titles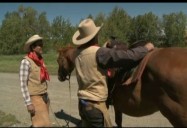 Eco - Creatures - Ep. 313: Planet Echo (Season 3)
Positive Productions Inc. and Media RendezVous Inc.
PE0313
In this adventure we learn about species helping the planet and people helping species. ADVENTURE...