Home / Ocean in the Prairie - Ep. 401: Planet Echo (Season 4)
Ocean in the Prairie - Ep. 401: Planet Echo (Season 4)

This item is only available for Canadian orders.
This title is a part of the series
Planet Echo (Season 4)
ADVENTURE: Chuck and Andy explore Lake Winnipeg, one of the largest lakes in the world and find out that sometimes you can have "too much of good thing". The boys find out what a watershed is and how too much human interference has created a nasty situation in Lake Winnipeg. Luckily... things are about to get better.
THE LAB: Dr. Greenie toys with the concept that "less is more". When he tries to invent a greenie machiney that zaps away garbage into thin air, GP ends up floating around in a vacuum void.
---
Related Titles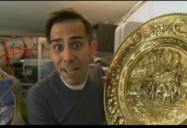 Eco - Folk: Planet Echo (Season 3)
Positive Productions Inc. and Media RendezVous Inc.
PE0309
In this episode we check out the environmental initiatives of the Winnipeg Folk...