Home / Green Trains and Ham - Ep. 404: Planet Echo (Season 4)
Green Trains and Ham - Ep. 404: Planet Echo (Season 4)

This item is only available for Canadian orders.
This title is a part of the series
Planet Echo (Season 4)
ADVENTURE: Chuck and Andy find themselves in NYC on an elevated train track that has been converted into an urban trail and amazing green space right in the heart one of the world's greatest cities. Chuck learns the history of trains by visiting Prairie Dog Trains just north of Winnipeg and has a surprising train adventure that he won't soon forget!
THE LAB: Dr. Greenie explores the most efficient and greenest way to move mounds of cargo. He comes up with his own rating system and sets out to prove which is best... planes, trains, trucks, boats or giant pink Guinea Pigs.
---
Related Titles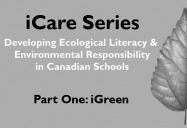 iCare: Program 1 - iGreen
McIntyre Media Inc.
MCI033
The urbanization and deforestation of North America has led to the development of concrete jungles...