Home / Earth Rangers - Ep. 405: Planet Echo (Season 4)
Earth Rangers - Ep. 405: Planet Echo (Season 4)

This item is only available for Canadian orders.
This title is a part of the series
Planet Echo (Season 4)
ADVENTURE: The Earth Rangers is a hugely successful non-profit organization that reaches out to kids all across the country. Their mandate is to teach kids about our environment and how to protect animal habitat. Chuck and Andy spend a day learning how to be Earth Rangers… and become the stars of the "after-show" Earth Rangers presentation.
THE LAB: Dr. Greenie comes up with a new invention that creates a protective force field around animal habitats. While the idea is good... it backfires when GP is stuck in a Mimes' glass box for the entire episode.
---
Related Titles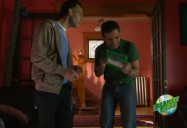 Shrinking! - Ep. 207: Planet Echo (Season 2)
Positive Productions Inc. and Media RendezVous Inc.
PE0207
In this episode we learn that habitats are shrinking everywhere and that it's important that we all...
Animals Series
Visual Learning Systems
110219
This 6-part series will help instructors teach the unique features of different types of animals...